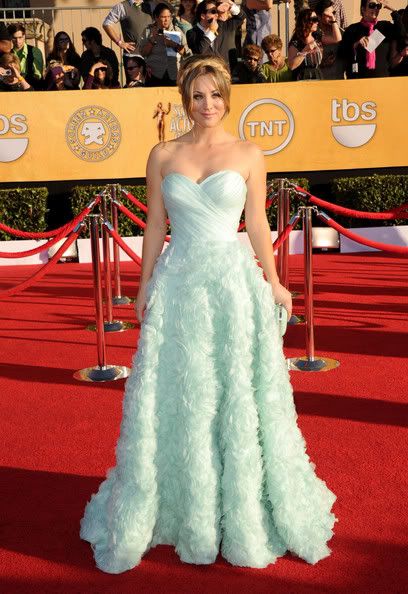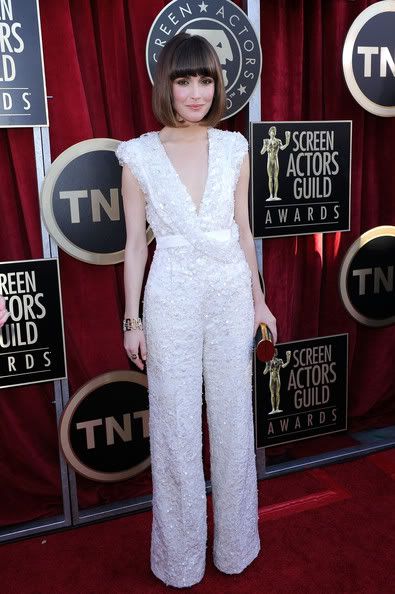 Moving on from a rainbow of colour to something more light and airy for you now. The biggest trend of the night was the one I'm going to dub 'Pale and Interesting', as muted colours were the pick of the evening for many stylists.
Kaley Cuoco (Romona Keveza) looked like a fluffy princess in her mint green gown. I have a feeling that this look will divide opinion much like SMG's Golden Globes dress. For the record, I love it! And her Heidi braid.
Octavia Spencer (Tadashi Shoji) looked stunning in her dove grey toga influenced dress. She has worn Tadashi Shoji looks all throughout awards season and looks amazing whilst doing so. It's very refreshing to see a high end designer create something for a woman who is not a size 2.
I LOVE Rose Byrne's (Elie Saab) pure white jumpsuit, but I'm not keen on the hair. I can imagine Tilda Swinton in this, although I'm sure she would pull it off in a much different style.
And finally we have Sarah Hyland in a pale pink/ cream embellished gown. I love how simple the cut of this dress is, very feminine and very pretty. I always look out for Sarah on the red carpet, she wears some gorgeous dresses.