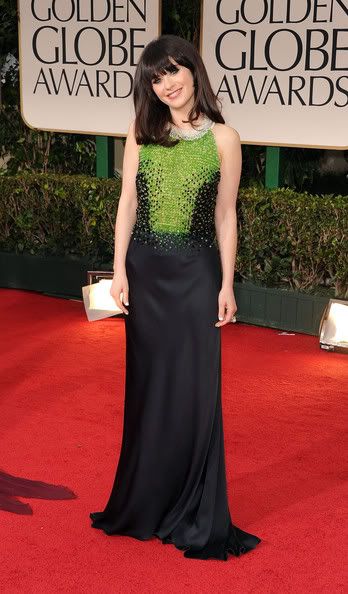 I loooooved Zooey Deschanel's custom made Prada dress. The Golden Globe nominee (for Best Actress in a Comedy Series) paired her unique navy and green dress with a 60s bouffant 'do and liquid lined eyes. I love the crossed back of this dress (below). Cute and charming, just like Zooey. 10/10.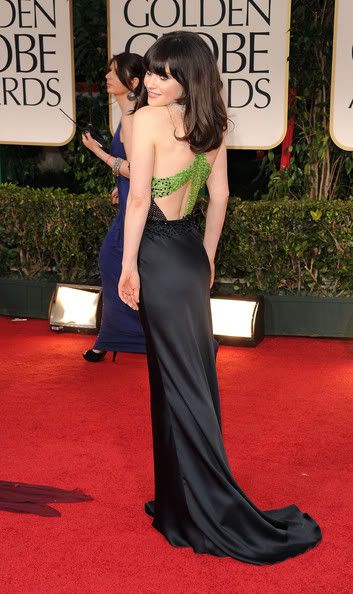 Emma Stone was back to her best last night. Surprisingly the label that let her down last time, was the label she chose again for the Golden Globes, as she was wearing a custom made Lanvin gown. The deep purple chiffon dress featured raspberry coloured sides, embellished shoulders and a belt with an eagle on it (yeah, I thought that was a bit random too). Her makeup is also miles better than it was the other night, as she reverted back to navy smokey eyes and a nude lip. A sexy thigh-high split added a little cheeky element to the funny girl's look. 9/10 (one point removed for the eagle randomness).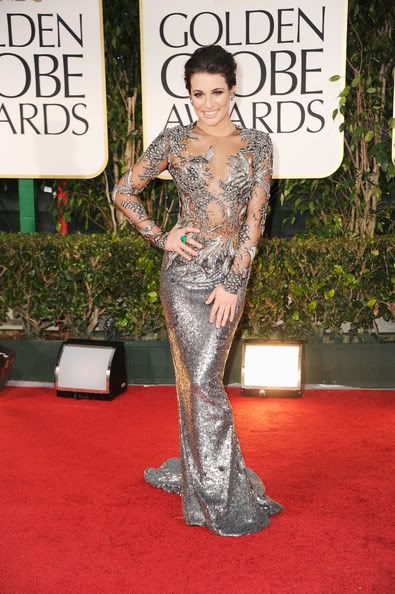 Lea Michele wore her favourite label, Marchesa, to the Golden Globes last night. Her embellished silver dress is a work of art, and fits her perfectly. you can tell that she's loving being centre of attention too. An updo and minimal jewellery was all tat was needed to complete the look. 10/10.

Nicole Richie continued her run of chic style choices in the silver sheath dress. I love her ponytail and full fringe too. Sliiightly too much jewellery for my taste, but overall a very good look. 9/10.