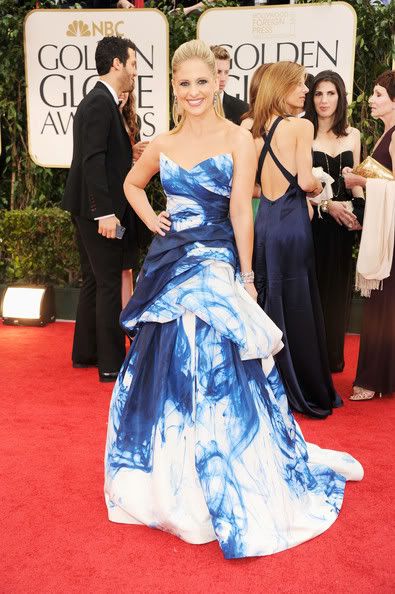 I'm going to start my Golden Globes coverage by defending Sarah Michelle Gellar. Yes, yes, I know, you hate this dress. It's the worst dress you've ever seen on the red carpet. Your eyes are offended. But I don't care what you say, I love Sarah Michelle Gellar, and so I love her dress.
The blue and white smoke print gown is by Monique Lhuillier, a label I like to think of as a less embellished Marchesa. I think the main reason people are hating this look is because it swamps SMG's petite frame, too much fabric for a little person. But she looks like she's loving it, look how gorgeously smiley she is!
SMG told reporters on the red carpet that her 2 year old daughter picked the dress for her to wear. Well, bless her heart for making her little girl happy. There have been far worse disasters on the red carpet for no reason at all.