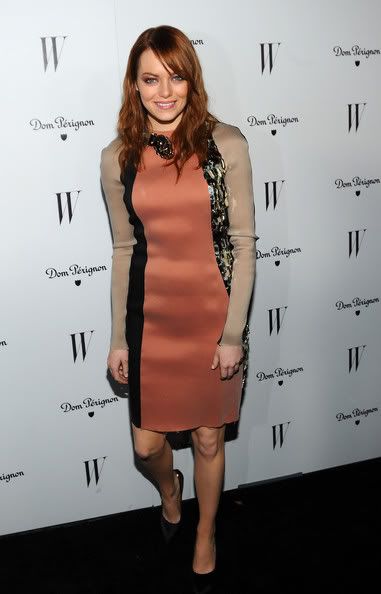 Well, I suppose it had to happen sooner or later. The ultimate girl crush of girl crushes, Emma Stone, has had a style slip on the red carpet.
She attended the W magazine pre-Golden Globes party last night in a peach and nude dress with embellished sides. Surprisingly, the dress is a Alber Elbaz design for Lanvin. I say surprisingly, as I didn't think it was possible for Lanvin to make Emma Stone look bad after her gorgeous look at last year's BAFTAs, but here you have it.
Unfortunately rather than looking chic, Emma looks like she is ready for a rather posh scuba diving lesson. Her hair and make up also let this look down dramatically. As you can see on the model, the embellished side of the dress curls around the back of the neck and over the shoulder to form a snake's head on the collar. But Emma's slightly greasy looking hair covers up this detail leaving the snake's head looking like a neacklace, which kills the look. Her mocha overextended eyeshadow also gives her a slightly hungover look, which, while she may be after 3 nights out in a row, I'm sure was not the intended effect. (See a close up of Emma's makeup here).